ABOUT Amory Transportation LLC

Company Information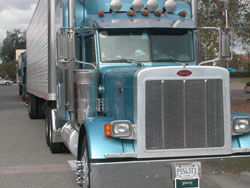 Amory Transportation LLC has over 50 years of combined experience in the refrigerated trucking industry. Originally formed to provide quality transportation services for fresh Atlantic seafood to the Chicago area, the company has expanded its services to include transportation of all varieties of refrigerated and frozen cargo from up and down the east coast throughout the mid-west.
Because we started our transportation services with highly perishable seafood products, we understand the special temperature and handling requirements that many of today's goods necessitate. Commodities such as seafood, meats, and produce are maintained to precise temperature requirements, while other shipments can be vented or chilled to protect against general heat.
All of our drivers are trained in the proper use of bulkheads and to manage mixed temperature freight. They are ambassadors to our customers and almost equally as important they are ambassadors for the trucking industry to the general public. We are proud of our high quality drivers and their service.